For adventurers on a tight time-budget, this 15-day trip wraps up the must-sees of both islands with a nice little bow. Check out the Coromandel's gorgeous beaches, hang with the Maori in a traditional village, walk the beaches of Kaikoura and get your adrenaline fix in Queenstown. Consider this your New Zealand starter's kit.
(Your total away time is 18 Days including travel)
Day 1 
Auckland
There are no activities until an evening welcome meeting, so head out and enjoy the city.
This tour departs Auckland early on Day 2. If you are interested in exploring the city and its nearby attractions, like the Hobbiton Movie Set or local wineries, it is recommended you book additional pre-trip accommodation nights.
Arrival Day and Welcome Meeting
The adventure begins tonight. Feel free to explore, but make sure you're back in time to meet the group. After introductions, your CEO will review the details of your tour.
Optional Activities
Waiheke Island Excursion
45-130 NZD per person
Take a ferry ride to Waiheke Island for a quick, fun getaway. Swim or kayak at white-sand beaches in the Hauraki Gulf. Tour the island's tracks and bush reserves, or sample your way through some of the island's 19 boutique wineries (the island produces some of New Zealand's finest reds). Take a zip-line over the forest!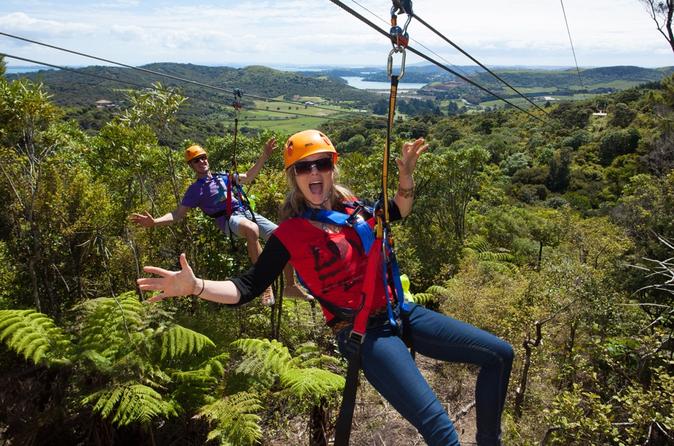 Maritime Museum Visit
20 NZD per person
Tour the museum's seven galleries to learn more about New Zealand's relationship with the sea. Be inspired by the country's most celebrated mariner, Sir Peter Blake, and his many accomplishments, and see maritime art that speaks to the sentiment of a nautical nation.
Accommodation
Kiwi International Hotel (
or similar

)
Day 2 
Auckland/Hahei 
(Breakfast | Dinner)
Depart early for the stunning Coromandel Peninsula. Take a walk to Cathedral Cove or opt out in favour of sea kayaking. If the tide is right, grab a shovel and dig a natural jacuzzi in the sand on Hot Water Beach.
Private Vehicle
Settle in and scan the scenery from the convenience of a private vehicle.
Coromandel Peninsula Visit
The Coromandel is one of many scenic regions of New Zealand. Set off into the mountain forest in search of the elusive "Hairy Moehau" monster. Check out the beaches and cliffs and keep your eyes peeled for dolphins and whales. Make friends with the locals, including "hippies" who arrived in the 1970s and never left.
Cathedral Cove Scenic Walk
Pack your swimsuit and walk from the north end of Hahei Beach along a cliff-top path that leads down to Cathedral Cove. A giant arch formed into the headland separates two secluded coves. Swim, lay in the shade, and enjoy the beauty of this idyllic spot.
Hot Water Beach Excursion
Hot Water Beach is a unique spot on the Coromandel Peninsula. If the tide is right, you can dig into the sand to create a natural jacuzzi.
Optional Activities
Sea Kayaking
85 NZD per person
Head out by kayak to experience the Coromandel from sea level.
Hahei Boat Cruise
25NZD per person
Accommodation
Tatahi Lodge Hahei (
or similar

)
Day 3 
Hahei/Rotorua 
(Dinner)
Visit Rotorua and opt to check out the geothermal area or go whitewater rafting. Later, enjoy a cultural overnight in a Maori village featuring a traditional hangi dinner and show.
Rotorua sits over an active volcano with bubbling mud pits and multi-coloured pools in different areas around the town. Opt to visit one of the sites, like Hell's Gate, or go whitewater rafting nearby.
In the evening visit a Maori village for traditional ceremonies, a Hangi meal and entertainment. After dinner, lounge by the bonfire and have some time to get to know the Maori hosts.
Accommodation is in a Maori wharepuni (sleeping house). Groups will often stay together in one sleeping house (multi-share, mixed gender), staying in line with Maori traditions.
Private Vehicle
Settle in and scan the scenery from the convenience of a private vehicle.
Maori Village Visit with Overnight
Visit the Tamaki Maori Village. Receive the traditional Powhiri welcome ceremony followed by a captivating stage performance explaining Maori history and culture. For dinner, enjoy a traditional Hangi meal, similar to the Hawaiian Luau, with dishes cooked in the ground. After, enjoy some quiet time with our Maori hosts by a fire.
Optional Activities
Whitewater Rafting
89NZD per person
Get your adrenaline fix on on this exhilarating white water rafting trip. Enjoy the amazing scenery along the way, but don't forget to paddle!
Whakarewarewa Geothermal Village Visit
35-60NZD per person
Visit an authentic Maori Geothermal Village. With a local guide, follow the path past bubbling mud pits and mineral pools with different fluorescent coloured water. Learn how geothermal energy is used around the village and hear the history of the area. Just try to ignore the sulfurous smell; that's just Mother Earth making magma magic.
Zorbing
35-50NZD per person
Mountain Biking
35-130NZD per person
Head out on an exhilarating cycling adventure. Explore the stunning Redwood Forest on two wheels on what some call the world's best mountain biking trails. Whether you're a beginner or expert mountain bike enthusiast there's sure to be a trail perfect for you.
Hells Gate Geothermal Park
35-90NZD per person
Hot Springs
Free-45NZD per person
Soak tired muscles in the area's natural hot springs and let the mineral water work its magic. Rotorua is home to a number of amazing geothermal parks – be sure you don't miss the healing and relaxing benefits of the city's naturally heated waters.
Accommodation
Tamaki Maori Village (
or similar

)
Day 4 
Rotorua/Wellington 
(Breakfast)
Take in the ever-changing scenery of the North Island and travel to the capital, Wellington.
Private Vehicle
Settle in and scan the scenery from the convenience of a private vehicle.
Accommodation
Downtown Backpackers – Waterloo Hotel (
or similar

)

Day 5 
Wellington 
(Breakfast)
Enjoy the atmosphere in this relaxed but lively city. After an orientation walk, enjoy a free day to explore. Opt to visit the Te Papa Museum or take the cable car up to the botanical gardens.
Orientation Walk
Enjoy a brief walk with your CEO. He/she will give you some tips on finding things like supermarkets, main squares, and ATMs. For more specific or in-depth information, an official guided tour is recommended.
Free Time
Spend some time exploring the city.
Optional Activities
Te Papa Museum Visit
Free
Visit this must-see museum, home to displays of historical Maori artifacts and modern exhibits. See how the museum is constructed on shock absorbers to withstand New Zealand's many earthquakes – find the stairwell just outside the entrance and descend into the foundations of the building.
Wellington Cable Car
4-7.50NZD per person
Zealandia
9-95NZD per person
Weta Workshop Tour
25-65NZD per person
Martinborough Wine Tour
199NZD per person
Accommodation
Downtown Backpackers – Waterloo Hotel (
or similar

)
Day 6 
Wellington/Kaikoura
Take the ferry to the South Island, then travel to the seaside town of Kaikoura, known for its volcanic black-sand beaches.
As a result of the recent earthquake in New Zealand, groups departing before Jan 31, 2017 will travel directly to Hanmer Springs instead of Kaikoura today. This change may be extended further into 2017 depending on the extent of the damage to the area.
Ferry
Get to the next spot on your route aboard a convenient and efficient ferry boat.
Private Vehicle
Settle in and scan the scenery from the convenience of a private vehicle.
Optional Activities
Set off along one of many hiking trails to take in the beautiful scenery surrounding Kaikoura.
Scenic Flight
135-180NZD per person
Take a 30-minute flight and set off to search for whales, dolphins, and other marine life. On land, you'll see Maori sites, Kaikoura town and New Zealand's southern fur seals.
Accommodation
Drifters Inn Hanmer Springs (
or similar

)
Day 7 
Kaikoura/Hanmer Springs
Opt to swim with dolphins or go whale watching during a free morning in Kaikoura before travelling to Hanmer Springs, stopping en route for a wine tasting at a local winery. Opt to take a soak in the hot springs.
For groups departing before Jan 31, 2017, today will be a full free day in Hanmer Springs. Opt to hike, visit local hot springs, go whitewater rafting, or spend the day exploring the town. This change may be extended further into 2017 depending on the extent of the damage to Kaikoura from the recent earthquake.
Private Vehicle
Settle in and scan the scenery from the convenience of a private vehicle.
Marble Point Winery Visit
Stop at Marble Point Winery and opt to sample some of the wines produced on site.
Free Time
Enjoy the beautiful surroundings.
Optional Activities
Whale Watching
145NZD per person
Follow in the path of Paikea, the Maori "whale rider", and set out in search of Giant Sperm Whales as they spray and dive their way through the waters off Kaikora.
Swimming With Dolphins
160NZD per person
Hop aboard a boat and head out to the open seas to search for wild dusky dolphins. Depending on conditions, most groups have 20-40 minutes of swim time with the dolphins.
Accommodation
Drifters Inn Hanmer Springs (
or similar

)
Day 8 
Hanmer Springs/Franz Josef 
(Breakfast)
Travel across the Southern Alps via the stunningly scenic Arthur's Pass. Go for a hike in the mountains or rainforest. Stay in the rainforest near the world's fastest moving glacier.
Private Vehicle
Stretch out and scan the scenery from the comfort of a private vehicle. Driving time includes stops.
Optional Activities
Stop midway through Arthur's Pass to stretch your legs and go for a short hike or two. The beautiful scenery and fresh air will keep you going for the rest of the ride. Possible stop at Castle Hill, a location used in the films The Lion the Witch and the Wardrobe and The Lord of the Rings.
Accommodation
Rainforest Retreat (
or similar

)
Day 9
Franz Josef 
(Breakfast)
Enjoy a free day to explore the area around Franz Josef. Opt to explore this glacier with a heli hike.
There are dozens of optional activities in the area to suit just about any budget and preference. Try heli hiking, scenic helicopter flights, horse trekking, quad biking, skydiving, glacier valley walk, lake kayaking or a hot pools visit.
Free Time
Don't waste a minute—get exploring.
Optional Activities
Helicopter Hike
449-499NZD per person
Take a once-in-a-lifetime helicopter ride high up on Franz Josef Glacier. Hop out and trek on the white and blue ice. Cool!
Ice Explorer Guided Hike (Heli Transfer)
379-409NZD per person
The sheer size and power of Franz Josef is something you need to see to believe. Board a chopper for a leisurely flight over the glacier before landing directly on the ice. From there, get up close and personal on a three-hour guided hike past towering peaks and stunning blue ice. The constantly shifting ice flows and crevices ensure your visit will be one-of-a-kind!
Franz Josef Kayaking
99-129NZD per person
Explore the stunning Lake Mapourika by kayak. This lake was created as the Franz Josef glacier retreated 14,000 years ago, and the still water has created a natural mirror allowing you to soak in the incredible panoramic views.
Franz Josef Glacier Valley Walk
65-75NZD per person
Enjoy spectacular views on a guided interpretive walk that follows a riverbed along the Franz Josef Glacier's retreat. At the end, you'll be rewarded with a great view of the glacier off in the distance.
Franz Josef Quad Bike
65-160NZD per person
Hop aboard the two-seater ATV quad and drive along ancient glacial pathways carved into the landscape by ice and water. Be amazed at what lies around every twist and turn as you are guided through rainforests, riverbeds, grasslands, sand and mud. Feel the thrill of fresh air in your face and the excitement of riding in the wild.
Take your pick of many scenic and memorable treks in Franz Josef – a true hiker's haven. Get prepared before heading out, and be mindful of signs along the track. See majestic mountains, glaciers, rivers, and amazing views that you'll definitely want your camera on hand for.
Horseback Riding
65-150NZD per person
Hop in the saddle and explore Franz Josef's amazing glacier landscape on horseback. Ride amid rainforests and mountain scenery, and enjoy fresh open air and natural beauty on this unforgettable trip.
Accommodation
Rainforest Retreat (
or similar

)
Day 10 
Franz Josef/Queenstown
Continue to Queenstown, the adventure capital of the world. With beautiful scenery and tons of activities, there's something for everyone. Enjoy the great night life.
Private Vehicle
Settle in and scan the scenery from the convenience of a private vehicle.
Accommodation
Peppers Beacon Hotel (
or similar

)
Day 11 
Queenstown 
(Breakfast)
With free time here, opt to go bungee jumping (in its birthplace), jet boating (also born here!), skydiving, paragliding, hiking or mountain biking. Or take it a little slower and travel by gondola to the top of a local peak.
Free Time
There's tons to do, get out and get going.
Optional Activities
Paragliding
210NZD per person
Hang on! Get a birds-eye view of Queenstown on an exciting ride in the sky.
Bungee Jumping
175-510NZD per person
Adrenaline junkies will be happy with a stop at the world's original commercial bungee site (bungy in New Zealand!). Opt to take the plunge or simply observe where it all started from the comfort solid ground. Shoot some amazing photos of those brave enough to dive into the abyss.
Skydiving
299-439NZD per person
Enjoy the awe-inspiring beauty of Queenstown from an eagle's perspective. Suit up, get briefed and board the prop plane to soar high about the rugged alpine landscape. Strap onto your instructor, take a breath and leap into a once-in-a-lifetime free fall. This is what a natural high truly feels like!
Gondola Ride
32NZD per person
Take a ride up to the top of the mountain by cable car gondola. Get a spectacular 220º view of Coronet Peak, the Remarkables mountain range, and Lake Wakatipu below.
Shotover Jet Boating
139NZD per person
Jet boating is a typical New Zealand activity— go as fast you can in a boat over water. Hang on tight as you fly across the surface of the water. Shoot through narrow rocky gorges and dare to watch as the driver takes hairpin turns frighteningly close to the cliffs.
Earnslaw Steamship Cruise
55-95NZD per person
Discover the breathtaking Lake Wakatipu aboard the TSS Earnslaw, a 103 year old traditional steamship. This 90 minute cruise highlights that stunning alpine scenery that surrounds Queenstown, and lets you check out the views while relaxing on deck.
Vineyard Tour
185-230NZD per person
Visit vineyards in New Zealand's fastest growing wine region. Taste some of Queenstown's finest Pinot Noir, as well as Riesling and Sauvignon Blanc. Sample local cheeses and learn more about the grape varietals that flourish here. Pick up a few bottles to savour back home.
Lord of the Rings Horse Riding Tour
165-325NZD per person
Escape New Zealand and head to Middle-earth on a horseback riding tour of sites used in the Lord of the Rings films. Take in the breathtaking views and see if you can spot places where the films were shot.
Ziptrek
120-170NZD per person
Canyon Fox
165NZD per person
Canyon Swing
205NZD per person
Get your heart racing as you launch yourself from the world's highest canyon swing. Free fall for 60m before a 200m swing across Shotover Canyon. See you at the other side!
Accommodation
Peppers Beacon Hotel (
or similar

)
Day 12 
Queenstown/Fiordland National Park 
(Breakfast | Dinner)
Enjoy the stunning scenery of Fiordland National Park and Milford Sound from the deck of a boat. Take in the waterfalls and wildlife.
Due to weather during the winter (May – Oct), instead of staying overnight in Milford Sound we'll be taking a day cruise around Fiordland National Park and Milford Sound before returning to Queenstown for the night.
Private Vehicle
Stretch out and scan the scenery from the comfort of a private vehicle. Driving time includes stops.
Milford Sound Overnight Boat Excursion
Head out to Milford Sound located in scenic Fiordlands National Park. Board the boat and cruise the sound looking for native New Zealand wildlife and waterfalls along the verdant shores. Accommodation on board is twin-share cabins and the meals are excellent.
Accommodation
Milford Cruise (
or similar

)
Day 13 
Fiordland National Park/Twizel 
(Breakfast)
Head through the centre of the South Island to Twizel, near New Zealand's highest peak, Mt Cook.
Private Vehicle
Stretch out and scan the scenery from the comfort of a private vehicle. Drive time includes stops.
Accommodation
Mountain Chalet Twizel (
or similar

)
Day 14 
Twizel/Christchurch
Spend the morning hiking the region surrounding Mt Cook, taking in the alpine scenery with the chance to learn more about mountaineer Sir Edmund Hillary at the visitor's centre. Continue on to Christchurch for one final night together.
Travel to the Garden City of Christchurch, a little piece of England in New Zealand, still recovering from a devastating earthquake.
Mount Cook Visit
Aoraki/Mount Cook is both a village, a national park and the name of New Zealand's highest mountain. Located in central South Island, the park includes a mix of rocks and glaciers, as well as alpine plants including the world's largest buttercup, the Mount Cook lily. There are several short walks that reward with spectacular views.
Visitor's Centre
Stop by the visitor's centre to learn more about the region.
Private Vehicle
Stretch out and scan the scenery from the comfort of a private vehicle. Drive time includes stops throughout the day, including a couple of hours to visit Mt Cook (weather permitting).
Free Time
Enjoy a last night out.
Optional Activities
Scenic Flight
Take to the skies and get a bird's eye view of the gorgeous landscape from above. Recharge your camera and go snap happy!
Accommodation
All Stars Inn on Bealey (
or similar

)
Day 15 
Christchurch
(Breakfast)
Depart at any time!
Your adventure comes to an end today! Although it doesn't have to if you prefer to extend it or take in another destination just ask me!
Book this amazing trip on 059 8633 836
COST: €3999pp
IAN WALSH
Travel Counsellor
059 8633 836
ian.walsh@travelcounsellors.com
http://www.travelcounsellors.ie/ian.walsh
What's Included
International flights from Dublin, airport taxes and tour as described.
Coromandel Peninsula visit. Cathedral Cove visit. Hot Water Beach stop. Traditional Maori ceremony and hangi dinner. Overnight in Maori village. Orientation walk in Wellington. Scenic train journey. Beach time in Kaikoura. Wine tasting. Scenic drive through Arthur's Pass. Fiordland NP visit. Milford Sound overnight boat excursion (seasonal; May through September will be a day cruise). Mt Cook NP visit with hiking opportunity (weather permitting). Mt Cook NP Visitor's Centre visit. All transport between destinations and to/from included activities.
Highlights
Check out Hot Water Beach, feast on a hangi in a Maori village, let loose in Queenstown, cruise around the fiords of Milford Sound, travel a scenic rail route
TRAVEL COUNSELLORS IS LICENCED AND BONDED WITH THE COMMISSION FOR AVIATION REGULATION IN IRELAND. LICENCE NUMBER TA0621.
YOUR MONEY IS SAFE WHEN YOU BOOK WITH US.