Are you ready to completely slather yourself in all things Australia? Travel to the Land Down Under and spend a month exploring everything this island nation has to offer. Start in Melbourne and move on from there to national parks, wine tastings, the Outback, beach days, sea kayaking, sailing, and loads more. Get the total Oz experience with this all-encompassing tour, and, who knows, you might even acquire a taste for Vegemite by the end.
Day 2 
Melbourne/Port Campbell
(Breakfast)
Travel past world-famous surf beaches along the Great Ocean Road. Enjoy views of the 12 Apostles and walk through the rainforest in Great Otway National Park.
Day 3 
Port Campbell/Halls Gap
(Breakfast)
Travel inland to Grampians National Park, known for its sandstone mountain range and impressive rock art. Trek through the forest, lush with vegetation and wildlife.
Day 4 
Halls Gap/Adelaide
(Breakfast)
Explore Grampians NP. Enjoy waterfalls, lakes and beautiful vistas. Later, travel to Adelaide.
Day 5 
Adelaide
Take advantage of a free day to explore Adelaide. Opt to go on a dolphin-spotting boat cruise (seasonal).
Day 6 
Adelaide/Quorn 
(Breakfast)
Enjoy a wine tasting in the Clare Valley, then it's on to Quorn.
Day 7 
Quorn/Beltana 
(Breakfast | Lunch | Dinner)
Head to Wilpena Pound for a walk to a natural amphitheatre sacred to the Aboriginal Adnyamathana people. Learn about Aboriginal art and early settler history.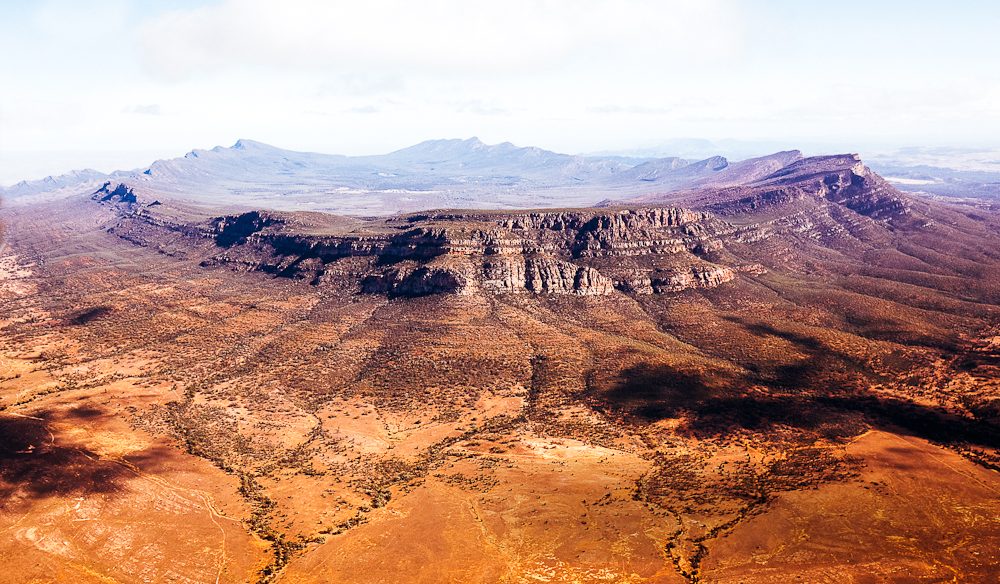 Day 8 
Beltana/William Creek 
(Breakfast | Lunch | Dinner)
Travel along the Old Ghan Railway route. Marvel at ruins of early settler sites and opt for a scenic flight over the great salt lake of Lake Eyre.
Day 9 
William Creek/Coober Pedy 
(Breakfast)
Travel to the town of Coober Pedy, the world's opal mining capital. After a guided tour of a mine, escape the heat like the locals by spending the night underground.
Day 10 
Coober Pedy/Kings Creek 
(Breakfast | Dinner)
Take in the vastness of the Outback on a driving day, then bed down in a swag (padded canvas bedroll) around a campfire and sleep under the Outback sky.
Day 11 
Kings Creek/Uluru 
(Breakfast | Lunch)
Enjoy a morning walk through the gorges and valleys of Kings Canyon. Drive to Uluru, where Australia's most iconic view awaits. Experience the colourful sunset at Uluru while enjoying a glass of bubbly.
Day 12 
Uluru 
(Breakfast | Lunch | Dinner)
Enjoy the Mala Walk at Uluru to learn the importance of the rock to the Aboriginal Australians.
Take a Helicopter Flight at Uluru & Kata Tjuta – €164pp (Must be pre-booked)
Day 13 
Uluru/Sydney 
(Breakfast)
Transfer to the airport and fly to Sydney.
Day 14 
Sydney/Nundle 
(Breakfast | Dinner)
Travel to the Hunter Valley for a wine tasting. Overnight at a sheep station, which includes a shearing demonstration.
Day 15 
Nundle/Bingara 
(Breakfast | Dinner)
Visit a working mine and have a go at panning for gold.
Day 16 
Bingara/Yamba 
(Breakfast)
Travel over the Great Dividing Range to Yamba, a quaint beach town. Go for a swim at the beach, relax, and enjoy the view.
Day 17 
Yamba/Byron Bay 
(Breakfast)
Continue up the coast to Byron Bay, an alternative hippie paradise. Hit the beach and enjoy an included surf lesson.
Day 18 
Byron Bay
Enjoy free time to hit the beach, get a massage, or try sea kayaking.
Byron Bay Ocean Kayaking €47pp
Day 19 
Byron Bay/Brisbane 
(Breakfast)
Travel north, and opt for a night out in Queensland's capital.
Day 20 
Brisbane/Fraser Island 
(Breakfast | Lunch)
Travel by private bus, private 4×4 and ferry to reach Fraser Island, the world's largest sand island. Explore the island by 4×4.
Day 21 
Fraser Island/Noosa Everglades 
(Breakfast | Lunch | Dinner)
Enjoy a morning of exploring by 4×4 to hit the remainder of Fraser Island's highlights, then set off to the Noosa Everglades for an evening surrounded by stunning wilderness.
Day 22 
Noosa Everglades/Emu Park 
(Breakfast | Dinner)
Hop on board a northbound train. Travel to laid back Emu Park on the Capricorn Coast, and enjoy an Aussie barbecue in the evening.
Day 23 
Emu Park/Whitsunday Islands 
(Breakfast | Dinner)
Embark on a 3-day maxi yacht sailing adventure. Enjoy beach visits, island bush walks, and time to snorkel the reefs. Anchor off of secluded tropical islands at night.
Day 24 
Whitsunday Islands 
(Breakfast | Lunch | Dinner)
Hike to an island lookout over Whitehaven Beach, known for its stunning white sand, then enjoy free time on the famous beach. Anchor off of a secluded tropical island at night.
Day 25 
Whitsunday Islands/Airlie Beach 
(Breakfast)
Continue sailing through the gorgeous backdrop of the Whitsunday Islands. Sail to the resort town of Airlie Beach for a night on the town.
Day 26 
Airlie Beach/Cairns 
(Lunch)
Admire the scenery on the train north to Tully. Upon arrival, enjoy lunch and a tour of the Ingan Cultural Centre. Participate in a painting activity with traditional Jirrbal Aboriginal artists before continuing on to Cairns.
Day 27 
Cairns
Enjoy a free day to visit the Great Barrier Reef or get the adrenaline pumping by skydiving, whitewater rafting or bungee jumping. Cap it all off with a Big Night Out in Cairns.
Great Barrier Reef Snorkelling – €108pp
Day 28 
Cairns
Depart at any time.
What's Included
– International & Domestic flights (Subject to availability)
– 22 Breakfasts
– 8 Lunches
– 10 Dinners
– Cafe Chloe, Tully
– Hands-On: Wine Tasting, Clare Valley
– Hands-On: Wine Tour, Hunter valley
– Hands-On: Sheep Shearing, Nundle
– Hands-On: Gold Mine Tour, Bingara
– Hands-On: Surfing Lesson, Byron Bay
– Big Night Out: Cairns.
– Rainforest walk in Great Otway NP.
– 12 Apostles visit.
– Aboriginal cultural centre visit.
– Tower Hill Reserve visit.
– Underground mine tour.
– Champagne sunset viewing of Uluru.
– Mala Walk around Uluru and cultural centre visit.
– Hikes at Grampians NP, Kata Tjuta (the Olgas) and Kings Canyon.
– Overnight excursion on Fraser Island.
– Noosa Everglades overnight excursion.
– Entrance fees to Cooloola Recreation Area and Fraser Island in Great Sandy NP.
– Whitsunday Islands sailing excursion (3 days).
– Visit to Whitehaven Beach.
– All transport between destinations and to/from included activities.
This group trip is accompanied by one of our group leaders, otherwise known as a Chief Experience Officer (CEO). The CEO will be the group manager, leader and driver – this person is experienced in the routes travelled.
We also use local guides where we think more specific knowledge will add to the enjoyment of the places we are visiting – we think it's the best of both worlds.
The price for this amazing trip is €5595pp. Based on departing Ireland 11th March 2018.
Lots of alternative dates are available, please call for details.
To arrange your adventure call today on 059 8633 836
IAN WALSH
Travel Counsellors
059 8633 836
ian.walsh@travelcounsellors.com
www.travelcounsellors.ie/ian.walsh
THIS TOUR IS SUITED TO 18 to 40 AGE GROUP. FOR SIMILAR TOURS FOR MORE MATURE TRAVELLERS, CALL THE OFFICE.
The small print:
This offer is brought to you by Travel Counsellors (Ireland) Ltd, Travel Counsellors acts as agent for our suppliers. The suppliers' terms and conditions apply to any booking and they are available upon request. The offers and prices contained in this page are subject to availability and can be withdrawn or amended at any time without notice to you. Prices and information correct at time of distribution. E & O E. Travel Counsellors is Licensed and Bonded with the Commission for Aviation Regulation, Ireland. Travel Agent Licence no. 621. Travel Counsellors (Ireland) Ltd., is registered in Ireland – 396139