Visit South America and travel through Chile, Argentina and Brazil
Discover the spirit of the south on this enriching journey from Santiago to Rio de Janeiro. Kick back in picturesque Mendoza, sample culinary delights in Buenos Aires, experience the might of Iguazu Falls and live it up in beach side Rio. This trip delivers adventure and discovery as well as a healthy dose of indulgence, comfort and relaxation. Be immersed in the culture and traditions of these countries, which are rich in natural beauty and history. Rub shoulders with locals living a passionate life and see how this enthusiasm for living is infectious! If you want to experience the best of Chile, Argentina and Brazil then this trip is for you!!
Why we love this trip
Discover the colonial charm, neoclassical plazas and stylish neighbourhoods of Santiago. This city is packed full of history and is a great place to explore on foot
Wind through the country lanes of the Mendoza wine region – the world's largest producer of Malbec. During this trip you'll have ample opportunity to refine your palate by tasting varietals of one of South America's favourite wines
Take part in the daily routines and duties of a gaucho on a traditional Argentinian estancia, a unique retreat for any traveller
Indulge in the cuisine, culture and nightlife of cosmopolitan Buenos Aires. Argentinian produce is some of the best in the world
Look for rainbows in the mist of the mighty Iguazu Falls from both the Brazilian and Argentinian sides, and visit a local indigenous community
Gaze over the dazzling city, mountains and bay of Rio de Janeiro from the foot of the famous Christ the Redeemer statue
Favelas may sit alongside mansions, but in the heaving metropolis of Rio, everyone's invited to the party. Immerse yourself in Brazilian culture, dance and music
Is this trip right for you?
There are numerous city orientation walks during this trip so there will be quite a lot of walking. It's important to always bring plenty of water, wear comfortable walking shoes and ensure you use adequate sun protection. Wearing layers is a good way to tackle the heat.
To maximise your free time in Rio you'll be taking a very early morning flight from Foz do Iguacu to Rio on Day 5 of the trip.
Temperatures can sore in the summer months in Brazil and Argentina. It's important to pack a variety of clothes and sun protection, and to drink plenty of water.
There is lots of walking so a good pair of walking shoes is essential for maximum comfort on your feet and legs
ITINERARY
Day 1: Santiago
Welcome to Santiago, Chile. Once you've arrived, transfer from the airport to the hotel (transfer is included). Your adventure begins with a welcome meeting at 6 pm. Please look for a note in the hotel lobby or ask reception where it will take place. If you're going to be late, please inform hotel reception. We'll be collecting your insurance details and next of kin information at this meeting, so please ensure you have all these details to provide to your leader. If you arrive early into Santiago, perhaps head out on a short walk to get your bearings of the city.
Notes: The complimentary airport transfer is only applicable on Day 1 of the trip or if pre-trip accommodation is booked through Intrepid. Please advise us of your flight arrival details at least 14 days prior to departure if you wish to have this transfer provided.If you are taking a transfer with us and have arrived on an international flight, please leave by Door 3. For a domestic flight please leave by Door 1.
If you can't arrange a flight that will arrive in time, you may wish to arrive a day early so you're able to attend. We'll be happy to book additional accommodation for you (subject to availability).
Accommodation
Optional Activities
Urban Adventures: A Bite of Santiago – A half day city tour including La Alameda, Mercado Central, La Vega Central, Cerro San Cristobal & Bellavista – USD72
Urban Adventures: Santiago Nightlife Adventure – – USD85
Meals Included
There are no meals included on this day.
Day 2: Santiago
Today you will get to grips with Santiago on a walking tour with a local leader – the city centre itself is quite small and simple to get around. You'll discover more about this city, which was founded in 1541 by the Spaniard Pedro de Valdivia, and has experienced a turbulent history that has included native wars, floods and earthquakes. Head to the Plaza de Armas, the heart of the city and home to the cathedral. The cathedral has recently undergone renovations, so now is the ideal time to visit. Walk through the central market to try some local specialities. Next, you'll take the cable car to the top of Cerro San Cristobal for the best view of the city. Finishing the tour in the bohemian Bellavista neighbourhood.
Perhaps continue yourselves to explore the modern parts of Santiago to see elegant residential neighbourhoods, shopping and financial districts. Later, take the chance to dine out at one of the city's famous restaurants.
Accommodation
Included Activities
Santiago – Half-day guided walking tour
Meals Included
Day 3: Mendoza
In the morning, travel through the Andes and across the Argentinian border by local bus to Mendoza (approximately 6-7 hours). It's a good idea to bring plenty of water and snacks, as the trip may incur delays. On a clear day it may be possible to see Mount Aconcagua, the highest mountain in the Americas at 6,962 meters above sea level. Please note that crossing the border can take up to three hours depending on local traffic. Once in Mendoza, get to know the city with a gentle stroll around its tree-lined streets, or visit the local cafes and restaurants for some Argentinian fare.
Accommodation
Meals Included
Special Information
SEASONAL WEATHER CONDITIONS:
From June to August the border crossing between Chile and Argentina may be closed due to snowfalls. In that event, your emergency fund may be needed to purchase a flight between Santiago and Mendoza.
Day 4: Mendoza
This morning head out on a winery tour, which includes lunch. Mendoza is Argentina's most prolific and significant grape-growing region, producing nearly three-quarters of the country's wine. The climate produces an excellent variety of grapes, with the region's signature being Malbec. Visit several wineries and cellar doors, tasting Malbec, Torrontes and other local varietals along the way. In the evening, perhaps test how refined your palate is by attempting to pair the perfect wine with an authentic Argentine asado (barbecue-style food).
Accommodation
Included Activities
Mendoza – Full-day winery tour
Meals Included
Day 5: Estancia Stay
This afternoon fly from Mendoza to Buenos Aires, which only takes around one and a half hours. On arrival, travel in a minivan for just over an hour to a traditional estancia (ranch). This is where the group will be staying for the next couple of days. Upon arrival, freshen up after a long day and get ready for dinner.
Accommodation
Meals Included
Day 6: Estancia Stay
During your time on the estancia you can do as much or as little as you desire. Activities may also vary depending on the day. You could go horse riding, work with the cattle, take a cooking class or learn more about the sport of polo. Alternatively you could laze by the pool and read or have a barbecue. Estancias are ideal for relaxation and provide a great base for activities. Please remember that activities vary depending on the days that you are there. If in doubt, ask your trip leader for more information.
Accommodation
Meals Included
Day 7: Buenos Aires
After breakfast head back to the cosmopolitan city of Buenos Aires. The Portenos (local residents) are justifiably proud of their city, which is comprised of distinct neighbourhoods, each with its own style. After checking in to the hotel, enjoy free time to explore. Perhaps wander the colourful neighbourhood of La Boca or see the elaborate tombs on display in the famous Recoleta Cemetery. An evening in Buenos Aires wouldn't be complete without dinner at one of the capital's famous steakhouses.
Accommodation
Included Activities
Buenos Aires – Orientation walk
Optional Activities
Buenos Aires – Tango show (ticket price depends on the location and inclusions) – USD120
Buenos Aires – Football game (ticket price depends on the game) – USD120
Meals Included
Day 8: Buenos Aires
Today is a free day to explore Buenos Aires
Accommodation
Meals Included
Special Information
As this is a combination trip, your group leader and the composition of your group may change at this location. There will be a group meeting to discuss the next stage of your itinerary and you're welcome to attend, as this is a great chance to meet your new fellow travellers.
Day 9: Buenos Aires
Today explore Buenos Aires on a full-day tour with a local guide. Wander the cobbled streets of San Telmo and browse its antiques markets, then continue to Plaza de Mayo to see the presidential palace of Casa Rosada. Walk among the tombs of the Recoleta Cemetery, the final resting place of Eva Peron. From here take a private van to La Boca and its well-known 'Caminito' district, before moving on to the lesser-known side of the neighbourhood. Here you'll visit an artist's gallery and eat an included lunch in support of a local social project.
In the evening, perhaps enjoy a tango show, a football match or a steak and glass of malbec in one of the city's trendy restaurants.
Accommodation
Included Activities
Buenos Aires – Full-day guided tour
Optional Activities
Buenos Aires – Football game (ticket price depends on the game) – USD120
Buenos Aires – Tango show (ticket price depends on the location and inclusions) – USD120
Meals Included
Day 10: Iguazu Falls
Fly to Puerto Iguazu in the northeast corner of Argentina today. The mighty Iguazu Falls straddles the border of Argentina and Brazil, and the group will be visiting the falls from both sides. The falls are over 2 km in length and consist of 275 falls in total, some of which stretch up to 80 metres high. This makes them higher than Niagara Falls and wider than Victoria Falls.
Today, travel into Brazil to admire panoramic views of the waterfalls before returning to Puerto Iguazu for the night.
Accommodation
Included Activities
Iguazu Falls – Entrance and tour of the Brazilian side of the falls
Optional Activities
Bird Park – BRL40
Helicopter ride (min 3 people) – BRL430
Meals Included
Day 11: Iguazu Falls
A visit to the Argentinian side of Iguazu today allows you to get up close to the waterfalls via a series of boardwalks. According to Guarani legend, Iguazu Falls was created when the serpent god M'Boy, enraged by the betrayal of a chieftain's daughter who was promised to him, split the river in half. For a more exhilarating experience, take an optional Zodiac boat ride to the base of the falls or a helicopter flight over the top. Visit a Guarani community to meet some of the region's few remaining indigenous people.
Accommodation
Included Activities
Iguazu – Guarani community visit
Iguazu Falls – Entrance and tour of the Argentinian side of the falls
Meals Included
Day 12: Rio de Janeiro
Today, cross the border into Brazil and take an early morning flight from Foz do Iguacu to Rio. The locals say that 'if God made the world in six days, he devoted the seventh to Rio'. The day is yours to do what you like. For relaxation and people watching, head to the beaches of Copacabana or Ipanema. If the time of year is right, check out a football game or a Carnival rehearsal. As evening approaches, perhaps take the cable car up to Sugarloaf Mountain to watch the sunset before getting sweaty with the locals in the samba clubs of bohemian Lapa.
Accommodation
Optional Activities
Rio de Janeiro – Carnaval rehearsal (only available from June to Carnaval) – BRL80
Rio de Janeiro – Football game (ticket price depends on the game) – USD30
Rio de Janeiro – Samba show – BRL200
Rio de Janeiro – Sugar loaf cable car – BRL76
Rio de Janeiro – Favela tour – BRL84
Meals Included
Day 13: Rio de Janeiro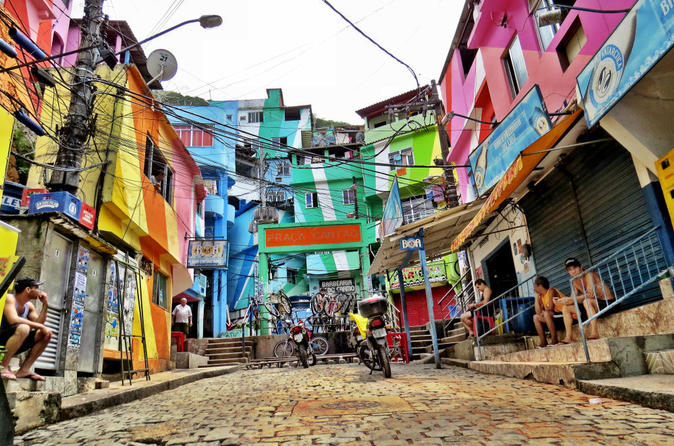 This morning embark on a full-day guided tour of Rio. Discover the eclectic architecture, restaurants and art galleries of the artistic neighbourhood of Santa Teresa. Stop by the famous Selaron Steps to see artist Jorge Selaron's gift to the Brazilian people. Continue up to Corcovado Mountain for sweeping views over Rio from the base of the Christ the Reedemer statue, one of the New Seven Wonders of the World. Then experience a different side of the city with a visit to the Santa Marta favela to learn about local life and meet some of the people who make up this dynamic community.
Accommodation
Included Activities
Rio de Janeiro – Guided tour including Santa Teresa and Selaron Steps
Meals Included
Day 14: Rio de Janeiro
Today your adventure comes to an end. There are no activities planned for the final day so you're able to depart the accommodation at any time.
Meals Included