Buenos Aires – Ushuaia – Bariloche – Lake Gutierrez  – Calafate – Mendoza – Puerto Iguazu
Mon 13 Mar Buenos Aires
Welcome to Buenos Aires! For most travelers, Buenos Aires is the entry point to Argentina. And what an entry it is: this vibrant city at the shores of the Rio de la Plata, feels almost European! Its cosmopolitan population of Italian, Spanish, French and many other nationalities, combined with amazing architecture, cultural activities and attractive neighborhoods with small shops, cafés and international restaurants, make the atmosphere relaxed and welcoming. A great place to start your holiday! After your arrival in Buenos Aires, you'll be warmly welcomed and driven to your hotel. We will give you our specially compiled guide to Buenos Aires, which rounds up all our favorite places to go, including restaurants, bars, shops and parks. It features lots of little out of the way places that only a local would know, such as the alfresco milonga (tango dance) in the Belgrano neighborhood on Tuesdays and Thursdays. It's these types of local experiences that make a visit to Buenos Aires special, and we make sure that you have plenty of opportunity to find them! After settling in you can head out to explore or just pick a spot for dinner, take a stroll and soak up the atmosphere of this thrilling city. We suggest having a glass of wine first in one of the many wine cellars in Buenos Aires. In Palermo we recommend La Cava de Rovere wine cellar in Palermo, which opens daily from 12:00 noon. TIP: Porteños eat dinner late; usually restaurants will open their doors around 20:00
Day 2 Tue 14 Mar Buenos Aires The City Streets
We find that Buenos Aires is best explored on foot and by hopping on and off its unique public transport. There's so much going on in the street that you get a real feel for the life of the city just by walking around. Today you'll experience it accompanied by your private local guide. He/she will meet you at your hotel in the morning and you'll head off to La Boca to see this classic Italian neighborhood. It also houses the famous Soccer Stadium where the legendary Diego Maradona started his career. From there you'll grab a cab to San Telmo, home to the working class and a place where Porteños (inhabitants of Buenos Aires) gather to dine and dance. Then you wander down to Plaza de Mayo, the main square with its pink government building where Evita once stood on the balcony. It was here that the Crazy Mothers demonstrated for years, demanding the government an explanation of what happened to their lost sons during the Videla dictatorial regime (1976-1983). Then you hop on the subte (metro) to Recoleta, with the stately old homes of the wealthy. This is the neighborhood where charismatic Queen Maxima of The Netherlands grew up. And it is also the location of the famous Recoleta Cementary, with the grave of Evita Perron. Then you bus to fancy Palermo with its many French influences, including great restaurants. Along the way your guide will show you tucked away secrets of each area, be it a backstreet cafe, some interesting architecture or a specialist shop. They'll plan the route depending on your interests and will seize the moment with suggestions on where to grab a tasty Argentine wine or the best ice cream, depending on what takes your fancy. TIP: whether a football fan or not, attending a Boca Juniors match (where Maradona once played) is an amazing experience. If you are interested ask your travel specialist for dates and ticket prices, we can assist in making a reservation.
Day 3 Wed 15 Mar Leaving Buenos Aires
After a relaxed breakfast at your hotel, if you booked your connections with us you'll be picked up and driven to the airport for your onward journey. The domestic airport is just a short distance away, so if you're flying within the country, then you shouldn't have to get up too early.
Arrival in Bariloche
Touching down in Bariloche is a joy to the eye. The city is located inside the Nahuel Huapi National Park and lies at the shore of the lake with the same name. If you booked your connections with us, we take you from the airport to your B&B, a few blocks from the center; otherwise you take a taxi. The rest of the day is free; if you have a whole afternoon ahead of you, you can book the Circuito Chico at your hotel reception. It is a tour around Bariloche to see the most important attractions in the area, including a chairlift that takes you to the summit of Cerro Campenario. This spot, at 1,050 meters of altitude, allows one of the most beautiful views of the region, looking at the lakes below you. If you do not want to make a tour, you can head for a stroll around town. Bariloche has a German/Swiss feel to it. The region is loved by many elite families and you will find many chalet-like buildings here. Walking in the streets you'll notice a surprising number of shops selling chocolate. These shops stock an overwhelming array of chocolates in all shapes, sizes and flavors, and the quality is top-notch. In the evening you can choose some Patagonia cuisine as well as typical German and Swiss dishes (like Bratwurst or cheese fondue), washed down with a locally brewed beer or two.
Day 4 Thu 16 Mar Bariloche
Kayaking Lake Gutierrez This morning you are on own. After breakfast you can go on an excursion to visit Victoria Island and the unique Bosque de Arreyanes: here a boardwalk leads through the magical atmosphere of a unique forest of magnificent "arrayán" trees growing over 15 meters tall, with their thick, cinnamoncolored trunks with white patches. Whatever you do, make sure to be back right after lunch; early afternoon you are picked up to begin your kayak excursion! The lakes here give you the possibility to explore unique spots that are only accessible by water and the free movement of kayaking enables you to reach places of which many can only dream. You will meet your guides at El Retorno Inn, on the shores of Gutiérrez Lake, where you will get a safety briefing and all the equipment that you need. You will kayak for two hours, experience the tranquility offered by the national park and stop to enjoy some hot turnover pastries on the beach, surrounded by the mountains.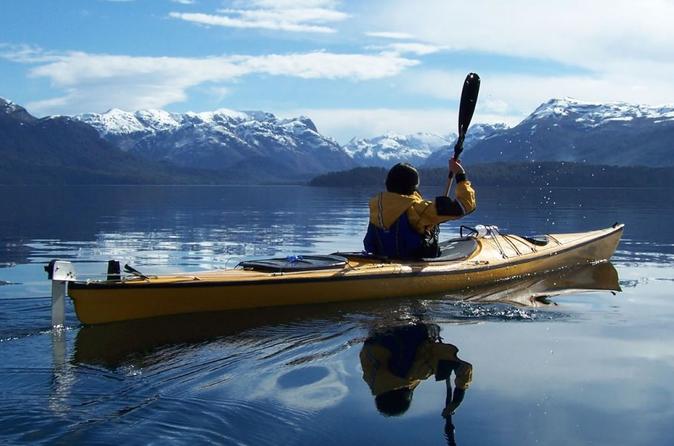 Day 5 Fri 17 Mar Bariloche Departure
After breakfast you head to the airport to continue on your onward journey. It is worth-wile to expand your stay and add an extra day in Bariloche. That way you will be able to visit the Ruta de los Siete Lagos (the 7 Lakes Route) for example. Included: (Meals –B) Calafate Arrival in Patagonia If you are lucky enough to land in El Calafate on a sunny day, you will have unforgettable views of the mountains and lakes right before you land. In case you have booked your connection with us, we will take you from the tiny airport to your hotel in town. El Calafate is a nice little town in an otherwise desolate area, with one main street where most of the restaurants and shops are centered, and a few streets leading off of it. After settling into your hotel you can take a stroll around town and choose one of the restaurants for lunch or dinner, depending on your arrival time. It is often cold and windy here, so the lamb racks in the windows of restaurants, the lit fire places and the view of other tourists sipping from their wines will have you inside soon for sure. If you have an afternoon in town and feel like some fresh air and a walk, then head down to the bottom end of town to the Laguna Nimez Nature Reserve. You pay a small entrance fee to walk a circuit taking you through shrub-lands and wetlands and down to the lake's edge. You'll see all sorts of unusual birdlife down here, and if you like you can borrow a bird guidebook from the nature reserve office. In the evening just relax, enjoy dinner and get a good night's rest. Tomorrow you'll be visiting the Perito Moreno Glacier!
Day 6 Sat 18 Mar Calafate Perito Moreno, walking on the glacier!
You will leave El Calafate early morning and after an 80km drive will arrive at the eastern side of the Magallanes Peninsula, with some excellent viewpoints. You will walk along the tracks, where you will see huge ice blocks detaching from the glacier and falling into the water, causing a tremendous sound and amazing waves. You will then head to the Bajo de las Sombras pier, located approximately 4 miles away from the glacier, where you will cross the Rico Branch on a boat (Nautical safari) and navigate for 20 minutes in front of the glacier. After this you will start a walk through the exuberant Magellan Forest on the other side of the shore. This mini trek is particularly attractive because of the close proximity to the glacier. There are also caves that allow you to reach the very base of the glacier, as well as small internal deep blue lagoons. You will be able to walk on top of the glacier with expert guides for over 2 hours, before returning through the forest again. You will have one hour for lunch (not included). After the trek, you'll get aboard your ship and head back to port before returning to Calafate. Tip: wear layers of clothes, bring a scarf and gloves and wear comfortable shoes (you will walk on crampons).
Included: Accommodation in Calafate. (Meals – B)
Not included: Perito Moreno entrance fees (Around USD 30.00)
Day 7 Sun 19 Mar Calafate Time to leave the Glaciers
After breakfast today you will head to the airport so you can fly to Ushuaia
Arrival in Ushuaia
Flying to Ushuaia is an adventure in itself. It is the southernmost city in the world and touching down you're arriving in Fireland, or Tierra del Fuego in Spanish. It is a rough, desolate, often cold place next to the legendary Beagle Channel, the southernmost strait that connects the Atlantic to the Pacific Ocean. After a transfer (if you booked your connections with us) to your cosy hotel a bit out of town, you can take a taxi (around USD 4.00 one way) to Ushuaia´s old airport, Aeroclub, for a good viewpoint of the city, bay, harbor and mountains. Here your guide will be waiting for your private walking tour. As you arrive into town you'll notice the famous welcome sign proclaiming Ushuaia to be 'at the End of the World', a very popular photo opportunity. The guide will explain about the first exploring expeditions and how the conditions were. The bay is a Protected Area and you will hear about the wildlife here and different Argentinean attempts to gain land on Tierra del Fuego after the borderline agreement with Chile in 1880. You'll visit the historical center including the navy neighborhood and the cemetery. The wreck that can be seen beside the promenade is the Saint Christopher. Historical houses and places like the prison, school and police station are located on the way to port. After appreciating the Antarctic Explorers promenade, you end your walking tour at the entrance of the End of the World Museum (visit and entrance not included and optional). We recommend that you stay in town for dinner (king crab is the speciality here and we really recommend it), before taking a taxi back to your hotel.
Included: Half day walking tour in Ushuaia with a private guide (aprox 3 hours). Accommodation in Ushuaia.
Day 8 Mon 20 Mar Ushuaia Hiking Tierra del Fuego
Enjoy a hearty breakfast this morning, as you'll be heading out for a busy day of fresh air and activity in the Tierra del Fuego National Park. Dress appropriately (layered clothes, hiking shoes, poncho, hat) and be prepared for any kind of weather. You'll be traveling from Ushuaia to the park by public bus, accompanied by a local hiking guide who'll show you the trails and tell you about the history of the park and its wildlife. Once at the park you can choose to ride the End of the World train, or else do a bit of hiking before visiting the beautiful Roca Lake. Then you'll take a long, lovely walk along the Lapataia River to the Chilean border, which cuts right across the island. Walking to the other side of the park you'll visit two stunning lagoons, one green and one black. This region is made up of a series of peat bogs and small rivers dammed by the local beaver population. From there you'll head to the coast before returning to Ushuaia later in the afternoon for a relaxing evening. Included: Accommodation in Ushuaia. Half day group excursion to the National Park Tierra del Fuego, Entrance fee included. (Meals – B)
Day 9 Tue 21 Mar Ushuaia Leaving the Land of Fire
Depending on the time of your departure flight to your next destination, you can relax after breakfast until it is time to make your way to the airport. Surely, going up in the air, you'll be tempted to stretch your neck to see if you can spot a bit of Antarctica somewhere in the distance. Weather permitting obviously the views can be spectacular again from above.
Buenos Aires The City Streets
Because Argentina is so big, this package takes you back to Buenos Aires for a night, in order to safely and in a relaxed way combine different regions within the country. As you booked your connections with us we will pick you up from the airport and take you back to the family run hotel that you stayed in when you arrived in Buenos Aires; for us it felt like coming home! Depending on your arrival, maybe today you will have time to stroll around the serene Recoleta Cementery in the middle of the city, where the grave of Evita Perron can be found, amongst many other beautiful graves. Another option is to go to Puerto Madero Waterfront, where you can eat an exquisite Argentine steak with a view on harbor life. And from there, you can walk to the Reserva Ecologica, a green park with lakes, flowers and birds whistling, a nice break from city life. Other options include a guided visit to the famous and beautiful Teatro Colon, a visit to the National Museum of Fine Arts (MALBA), or the World Tango Museum, which is located above legendary Café Tortoni. In this oldest café in town', famous and influential Porteños come to drink, discuss and play card since more than 100 years. The interior style is still as if you're back in the year 1900. Included: Accommodation in Buenos Aires.
Day 10 Wed 22 Mar Buenos Aires Leaving Buenos Aires
After a relaxed breakfast at your hotel it is time to make your way to the airport for your onward journey. The domestic airport is just a short distance away, so if you're flying within the country, then you shouldn't have to get up too early.
Included: (Meals – B)
Mendoza
Arrival in Mendoza After touching down at the Mendoza airport and if you booked your connection with us you are taken to your hotel right in the center of town. Mendoza has an arid climate, and from November till March, temperatures can be high. After settling in, the rest of the day is free for you to relax at your hotel pool or head into the city. We recommend a long lunch or dinner at one of Mendoza's many excellent restaurants. This whole province is built around the enjoyment of wine, so be sure to have a good look at the wine list and discuss your bottle with your waiter; this is the place to let your inner sommelier run free… The annual grape harvesting festival takes place in March.
Included: Accommodation in Mendoza.
Day 11 Thu 23 Mar Mendoza – Surroundings:  Touring the Vineyards
This morning you have time to explore the lovely city of Mendoza. With its rolling vineyards set in the foothills of the Andes, the Mendoza wine region is unlike any other wine region on earth. Experience it with a local guide on this half-day wine tour! You'll visit two or three wineries in the Luján de Cuyo area, where you'll learn about the winemaking process of one of South America's most important wine countries and, of course, sample several different wine varieties, including Mendoza's best-known grape, malbec.
Included: Half day group excursion to the Mendoza wine country with a visit to wineries. Accommodation in Mendoza.
Day 12 Fri 24 Mar Leaving Mendoza
Depending on your departure time today, after breakfast you have time to relax at the hotel, go shopping in the city center, or visit the zoo right in the center of town, within the San Martin Park. A transfer will pick you up when it's time to take you to the airport, on to your next destination… Included: (Meals – B)
Buenos Aires
This package takes you back to Buenos Aires for a night, in order to safely, and in a relaxed way, combine different regions within the country. As you booked your connections with us we will pick you up from the airport and take you back to the family run hotel that you stayed in when you arrived in Buenos Aires.
Day 13 Sat 25 Mar Buenos Aires
Free time!
Day 14 Sun 26 Mar Leaving Buenos Aires
After a relaxed breakfast at your hotel it is time to make your way to the airport for your onward journey. The domestic airport is just a short distance away, so as you're flying within the country, you shouldn't have to get up too early.
Included: (Meals – B)
Iguazu Falls Arrival at Iguazu
When you arrive in Puerto Iguazu airport, you can take your jacket off: warm air welcomes you, it's flip-flop time! As you booked your connections with us we will take you to your hotel in the center of Puerto Iguazu. It has a pool and a beautiful tropical garden where you can relax and enjoy a drink. Most flights arrive in the morning, leaving time for an afternoon activity. You will be picked up early afternoon and cross the border into Brazil (bring your passport) to visit the Brazilian side of Iguazu Falls: the biggest waterfalls in the Americas. Brazilians say: "Argentina has Iguazu Falls, but we have the view", and from the Brazilian side you indeed have an incredible panoramic view of the approximately 270 waterfalls, surrounded by lush tropical nature. From the visitors' center, you board a panoramic bus to this national, UNESCO World Heritage Park. Here, you descend to the walking paths. Then after 950 meters with stunning views over the Iguazu River the walkway goes over the river, right next to Floriano fall, giving visitors a refreshing reception and a gorgeous view of the lower Iguazu River and the 'Devil´s Throat', which is the biggest waterfall. An elevator and stairs lead to a shopping and restaurant area. From there you return to the entrance by panoramic bus, transfer to the regular bus, back to Argentina and back to your hotel. Some good restaurants for dinner are located about 150 meters from the hotel.
Included: Accommodation in Iguazu.
Day 15  Mon 27 Mar Iguazu Falls
Full day at Iguazu Falls Today you'll spend a full day in Argentina's spectacular Iguazu Falls National Park. You are picked up by bus and with your guide and other travellers that have booked for today, go to the visitors' center. Here you board the train that goes to Cataratas Station (8 minutes away). The same train goes on to Garganta Station. There are 2 routes to walk: The 'upper circuit' has 800 meters of catwalks detached from the jungle´s surface to protect the fauna on the ground. From this circuit you have an upper, magnificent view of the falls. The other is the 'lower circuit', 1600 meters of catwalk, also detached from the jungle´s surface, with views from below and around the falls. This circuit provides a unique experience of feeling part of the natural surroundings, watching and sensing the magnitude of the falls from up close. Lastly, you will visit the Garganta del Diablo; the Devil's Throat: from Cataratas Station, the train goes to Garganta Station in about 18 minutes. Then a 1200-meter walk on the catwalks, mostly over river islands, takes you to the Devil's Throat. Standing here, you can't talk, all sounds are 'swallowed' by the thundering set of falls here; it's flatout impressive. Once you have finished the circuits, you go back to the visitors' center and from there back to the hotel.
Included: Accommodation in Iguazu. (Meals – B)
Day 16 Tue 28 Mar Iguazu Falls
Leaving Iguazu
As Iguazu is the last stop of your Argentina holiday, why not add one or two days in these tropical surroundings. There is so much to see and do here: away from the hotel pool, in Brazil we recommend the tropical bird park, the jetboat safari that takes you right under the waterfall, or an unforgettable helicopter flight (10 minutes, US$130, worth it!). You can also visit Paraguay, the Itaipú Hydro-electrical Dam or do a beautiful, 4-hour jungle trekking. Otherwise, if today is your departure day, you can head to the airport to return Buenos Aires for your last night before taking your flight back to Ireland
Over night in Buenos Aires with breakfast the next morning included
Day 17 Wed 29 Mar – We say goodbye and thanks for visiting Argentina!
WOW! What a trip! You can book this itinerary or tailor make your own unique journey to suit your needs. Just all 059 8633 836
Price: €3344pp
Price is live and available at the time of issue. Includes return flights and full trip as per the itinerary. Lunches, Dinners and some breakfasts are not included. Breakfasts are included where stated.
IAN WALSH
Travel Counsellor
059 8633 836
ian.walsh@travelcounsellors.com
http://www.travelcounsellors.ie/ian.walsh
Hotels & Accomodations
Livian Guest House – Buenos Aires
Las Marianas – Bariloche
Cauquenes de Nimez – El Calafate
Campanilla – Ushuaia
Crillón – Mendoza
Jardin del Iguazu – Puerto Iguazu