Discover North Lake Garda where staggering mountains provide a dramatic backdrop, tranquil waters enchant and the fruits of the surrounding vineyards of Trentino delight!
Fly from Dublin or Cork
Day 1
Depart on a direct flight to Verona airport where you will be met by your tour representative. You will take a coach journey to the 4 star Hotel Majestic Palace where you will stay for 7 nights on a half board basis. On top of this, you can enjoy a complimentary welcome drink on arrival, afternoon tea or coffee each day and a glass of wine and water with dinner.
Day 2
You will have plenty to discover at your own pace today, in the absolutley beautiful Malcesine. Standing at the foot of Mount Baldo, the medieval town is home to the magnificent Scaligero castle and oozes magical charm. A maze of narrow, cobbled streets wind their way through the town, leading to a pebble beach and unspoilt harbour, where fantastic restaurants, cafés and shops abound. Malcesine lends itself to a slower pace of life, where sauntering through the beautiful medieval town and relaxing by the waters edge is very much the order of the day.
Day 3
Wine tour of Trentino
This afternoon, you will be picked up from your hotel by your coach, which will take you to the wine region of Trentino. Taste the fruits of this beautiful wine region and take in the spectacular views on this half day excursion to the Maso Roveri vineyard. Whether wine is your passion or you simply have an interest in how it is produced, this will be a great day out. Your charismatic and highly knowledgeable tour guide will not only ensure you see and learn how the local wines are produced, they will make sure you are provided with tasty snacks to soak up the delicious wines you'll sample, all the while having plenty of fun and learning a lot about the area's fabulous wines. Immersing yourself in Italian culture while tasting some spectacular wines is the perfect way to spend a day.
You will be returned to your hotel after your wine tasting, where you are free to spend the rest of the day as you wish. Relax in hotel, lazing by the poolside or perhaps continue your sampling of the area's very fine wines by choosing one of the beautiful spots in Malcesine, selecting a wine and watching the world go by.
Day 4 – Venice
This morning, you will be picked up from your hotel to enjoy a scenic coach ride to Venice, where you will take a two-hour guided visit of the Floating City, with an official city tour guide. The tour includes a private motorboat ride along the Grand Canal to St. Mark's Square, taking in the sights of the Basilica and Bridge of Sighs, then continues on foot to the Rialto Bridge, a marvellous feat of engineering. This tour is a great way of ensuring that you explore the sites of Venice in the best way possible.
You will have free time for lunch, and will have no problem finding a tasty spot to dine upon some great Venetian fare. You will also have time to wander the boutiques and quaint restaurants that line the narrow, labyrinthine back streets of this enchanting city. Should you wish to do more, a gondola ride or sightseeing cruise on the lagoon are payable locally. Return to the coach on private motorboat, passing St. George's Island, home to one of the architectural glories of Venice – the majestic Church of San Giorgio Maggiore, and return to your hotel for the evening time.
DAY 5 & 6 at your leisure
Still thirsty for activities? No problem! Your local representative will be more than happy to arrange great extra excursions. We suggest a full day excursion to Verona, where a local guide will show you the treasures of this historic city. You might also like to take a trip to the Dolomites, Italy's most breathtaking mountain range.
Of course, if you want some relaxation in between your tour days, there are plenty of options for you. From relaxing by the poolside at your fabulous 4 star hotel, to sauntering by the waters edge in Malcesine -whatever way you wish to unwind here, it's sure to be lovely.
DAY 7
Lake Garda Tour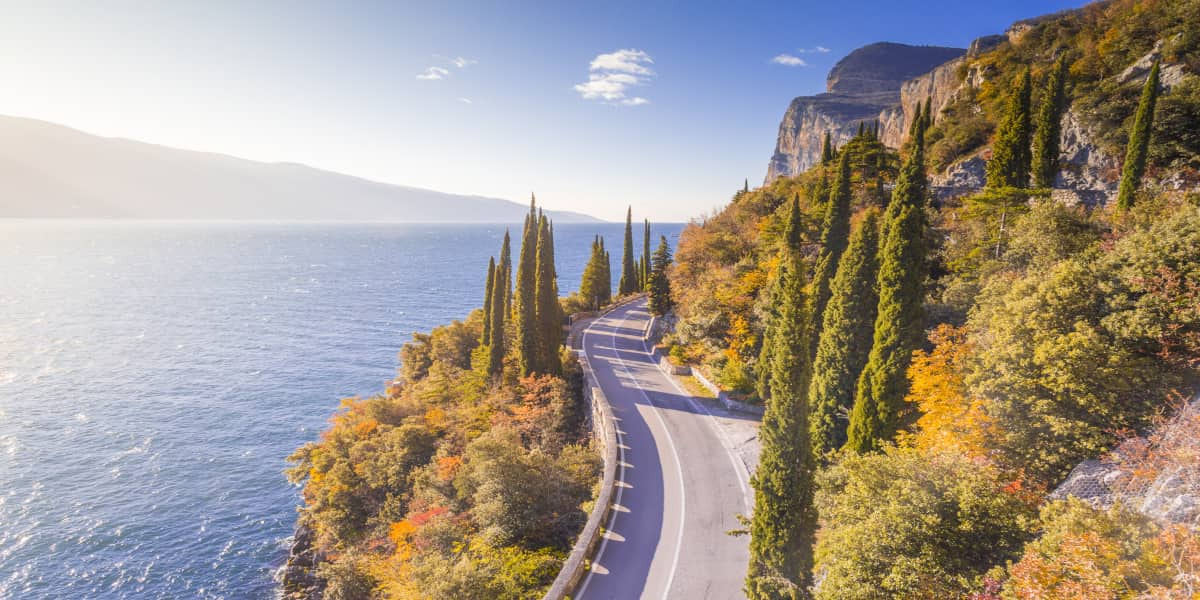 The coach will pick you up from the hotel this morning, to enjoy a tour around Lake Garda. It is not enough to simply visit one of the towns that dot the shore of Lake Garda, as each are different and have something unique to offer. Throughout your scenic trip, you will enjoy lunch in one of the beautiful Lake towns we will visit along the way.
Firstly, you will tour by coach along the romantic Gardesana, one of the most beautiful roads in Europe with its cypress trees and resplendent flora. You will stop in Garda, a beautiful spot where chic boutiques and quaint, open-air cafés line the traffic-free promenade.
Your next stop will be Sirmione, an enchanting medieval village with old walls and narrow cobbled streets. You will leave Sirmione by boat to Gardone, a gorgeous spot which boasts luxurious vegetation, an elegant atmosphere and a striking lakefront boulevard. At the end of the tour, you will journey back to your hotel on the coach having delighted in a greater view of just how beautiful and diverse the towns of Lake Garda really are.
DAY 8 – Time to return home
Transfer to your departure airport for your return flight, or if you wish, you can extend your stay for a second week on Lake Garda.
4* MAJESTIC PALACE HOTEL
FACILITIES
All Rooms have Shower, WC
Cots Available
Lift
Lounge
Miniclub for children
Reception
Safety Deposit Box in room
TV in room
Telephone in room
Fitness Room
Games Room
Jacuzzi
Kiddies Pool
Regular entertainment
Sauna
Swimming Pool
Table Tennis
Volleyball
IMPORTANT INFORMATION
Please Note: Many Italian local authorities charge a tourist tax. This is not included in your holiday price and if applicable must be paid by you directly in your accommodation.
Book your tour on 059 8633 836
IAN WALSH
Travel Counsellors
059 8633 836
ian.walsh@travelcounsellors.com
http://www.travelcounsellors.ie/ian.walsh
The small print:
This offer is brought to you by Travel Counsellors (Ireland) Ltd, Travel Counsellors acts as agent for our suppliers. The suppliers' terms and conditions apply to any booking and they are available upon request. The offers and prices contained in this page are subject to availability and can be withdrawn or amended at any time without notice to you. Prices and information correct at time of distribution. E & O E.
Travel Counsellors is Licensed and Bonded with the Commission for Aviation Regulation, Ireland. Travel Agent Licence no. TA 0621. Travel Counsellors (Ireland) Ltd., is registered in Ireland – 396139