ANOTHER AMAZING CRUISE DEAL! Visiting Spain, France and Italy, wake up somewhere new every day!!
THE DEAL:
Return Flights
Airport Taxes
Gratuties
Inside Stateroom 
All Meals Included
Port transfers
20kgs Baggage per person
€1168pp
Based on 2 sharing
Stateroom upgrades are available, please ask for details
THE ITINERARY:
05 Oct 2017 Barcelona, Spain
06 Oct 2017 Cartagena, Spain
07 Oct 2017 Ibiza, Spain 7
08 Oct 2017 Palma De Mallorca, Spain
09 Oct 2017 Provence (Toulon), France
10 Oct 2017 Nice (Villefranche), France
11 Oct 2017 Florence /pisa (La Spezia), Italy
12 Oct 2017 Rome (Civitavecchia), Italy
13 Oct 2017 Naples (Capri), Italy
14 Oct 2017 Cruising
15 Oct 2017 Barcelona, Spain 6:00
The Ship: Freedom of the Seas
With Freedom of the Seas we let our imagination fly free! For the adventurous we designed a Rock Climbing Wall with eleven routes up and a central spire you can swing around; a spectacular FlowRider surf simulator where you can ride the surf high above sea level.
For those who like things a little more laid-back, Freedom of the Seas has cantilevered whirlpools stretching out over the ocean and a sumptuous spa. Families are in for an unforgettable time with our magical DreamWorks experience.
For action and adventure
Surf's up! Catch the perfect wave on our incredible FlowRider® – a surf simulator where you can go surfing high above sea as the ship sails along.
For relaxing
Catch the latest films in our 3-D cinema where you don't so much watch the action as live it. Or lap up a movie at our Poolside Screen.
Rooms onboard Freedom of the Seas
Whether you've had a full-on day sightseeing or a laid-back day in the sun, it's good to know you've somewhere relaxing to come back to; somewhere you can recharge and refresh in private. That's why all the staterooms onboard Freedom of the Seas are designed with your comfort in mind.
Wonderfully airy and extremely well appointed, they are all tastefully decorated in soft, calming colours. There are four main categories of stateroom; once you've chosen a category you then select a specific room type depending on your needs.
Dining on Freedom of the Seas
For informal dining and snacks, you can enjoy authentic pizza at Sorrentos, burger and fries at 1950s diner Johnny Rockets, or indulge in a sweet treat at Ben & Jerry's. If you fancy something more upmarket, try the fresh salmon or filet mignon at Chops Grille, or savour the intimacy of the Italian speciality restaurant, Portofino and sample the fine wines on offer at California Vineyards.
Our Main Dining Room delivers attentive service and flexible dining options included in the price of your cruise. Our Speciality Restaurants offer a range of different culinary experiences for a small extra charge.
Chops Grille
This is a high-end grill where you'll find the likes of filet mignon and mesquite-grilled salmon on a menu that changes daily
Sorrentos
Any night is pizza night, and it's guaranteed to be a good one here with great, authentic Italian pizza – the menu has all your usual favourites, as well as daily specials.
Vintages
Developed with Robert Mondavi, Beringer® Blass Wine Estates and Niebaum-Coppola, Vintages brings you amazing wines from some of the world's finest vineyards.
Cupcake Cupboard
A charming 40s-style shop where there's a new flavour showcased every day. You can also join in at cupcake decorating parties and classes.
Johnny Rockets®
Burger and fries with a milkshake in a '50s-style diner that's all about friendly and fast service – this is a taste of the old-school, all-American traditional burger joint.
Portofino
For delicious Italian classics and our chef's own creations, to savour in an intimate setting, Portofino is the place. It's also the venue for our Mystery Theatre Dinner nights.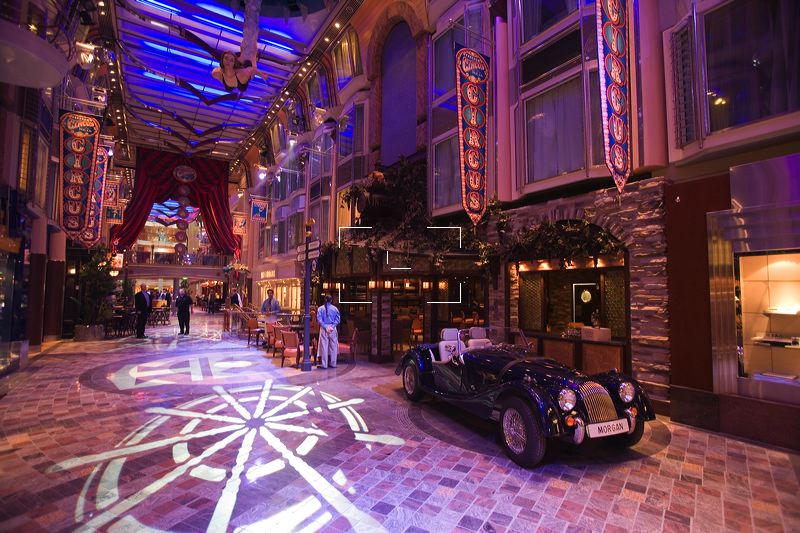 Book this fabulous cruise on 059 8633 836
IAN WALSH
Travel Counsellor
059 8633 836
ian.walsh@travelcounsellors.com
http://www.travelcounsellors.ie/ian.walsh
All offers are subject to availability at the booking stage. It is always advisable to book as soon as possible. E&OE.
Travel Counsellors is Licenced and Bonded with the Commission for Aviation Regulation in Ireland. Licence Number is TA0621.